Microblading Eyebrows
Microblading is a semi-permanent eyebrow procedure that is carried out using a specialist hand-tool which holds disposable microblades. The required pigment is deposited into the superficial dermis of the skin with the disposable microblade which allows The required pigment is deposited into the superficial dermis of the skin with the technician to create bespoke, crisp hair strokes which look like natural eyebrow hair.
Microblading differs from conventional semi-permanent tattooing by the very fact that it is a manual procedure. When using a hand held micro blade, the colour is deposited closer to the surface than when a machine is used leaving very fine and crisp hair strokes with no spilling under the skin. The process includes consultation, initial procedure, after care advice and a top up 6-8 weeks after initial treatment
Microblading Brows Price £189 includes free top up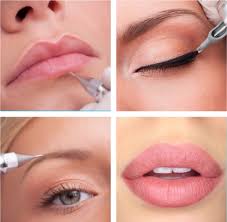 Semi Permanent Make Up
Eyebrows – Your eyebrows are one of the most important features,they frame the face and open up the eyes. They lift and give expression to the face. Semi permanent eyebrows provide a practical solution to maintaining the perfect brow. This is an ideal treatment for people who continually need to use a brow pencil for patchy or non-existent eyebrows.
Eyeliner – Applying eyeliner and removing it can be quite awkward at times our great range of Semi-Permanent Make-up treatments will give you the convenience of a professionally applied makeup look, every day.
Lips – Lips can be made fuller and given more definition to create a shape which may have faded over time or give you that look you have always been looking for,Clients can choose an outline that can be applied to give great shape rather than lots of colour or alternatively the treatment can be applied more boldly for a more glamorous, overall look.
For more details please don't hesitate to contact us on 01495 718800 where we will be happy to help you with any questions.