Cryolipolysis is a medical treatment used to destroy fat cells. Its principle relies on controlled cooling for the non-invasive localised reduction of fat deposits in order to reshape body contours. Cryolipolysis is safe and effective, creating natural looking results which can be seen as early as 3 weeks following treatment, with the most dramatic results evident after 1 to 3 months.
How long before I see results?
You may start to see changes as quickly as 3 weeks after your treatment and will experience the most dramatic results after 1 to 3 months. Your body is still flushing fat cells and will continue doing so for up to 4 to 6 months following treatment.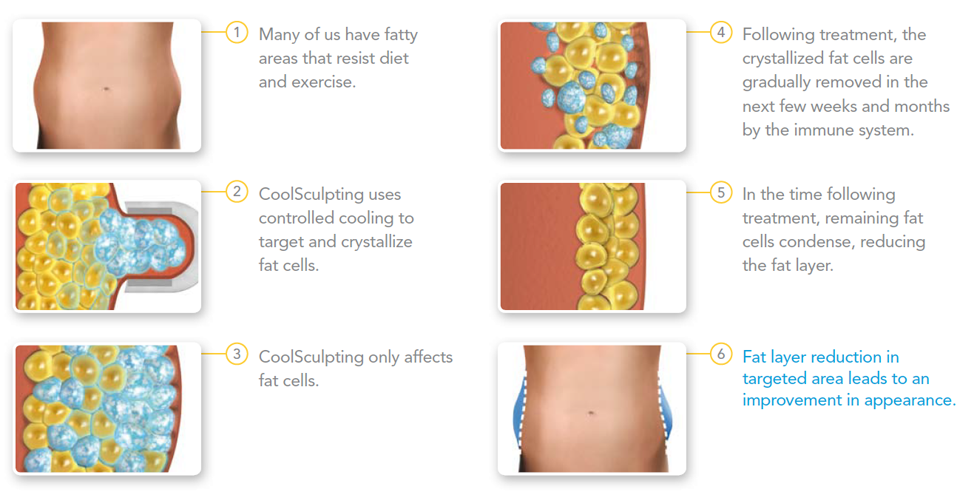 Are the results permanent? In most cases permanently eliminates targeted fat cells from the treated area. When we gain weight, our fat cells increase in size creating a larger frame. Once these fat cells are removed, they are no longer there and therefore cannot get bigger, providing permanent results. As long as you maintain a healthy lifestyle, long-term results should remain stable
What happens during the treatment?
We first position the device on the treatment area. The device then draws the bulge between two cooling panels. The sensation is a firm pull and pressure – enough of a pull to ensure the selected tissue is cooled most efficiently. An hour or so later, depending on your needs, you're done.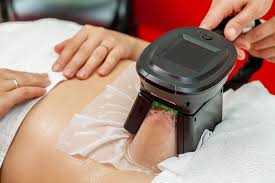 Is it painful? During the treatment you will experience a firm pulling sensation on the area being treated. The cooling process should then numb the area after a few minutes. Our patients tend to spend their procedure time reading, working on their laptops, or simply relaxing. It is completely non-surgical, so typically you can return to normal activities immediately. Some patients experience redness, minor bruising, tingling, numbness or discomfort in the treated area, but this is only temporary and will resolve completely. In fact, patients frequently return to work after the session is over.
Many patients achieve significant fat removal and changes in their body contours in just one treatment. However, during your consultation, we can discuss a tailored treatment plan that will meet your specific needs.
Special Offers Available Prices from £79
For more details please don't hesitate to contact us on 01495 718800 where we will be happy to help you with any questions.