Limited Time Only at £299 for 3 Treatments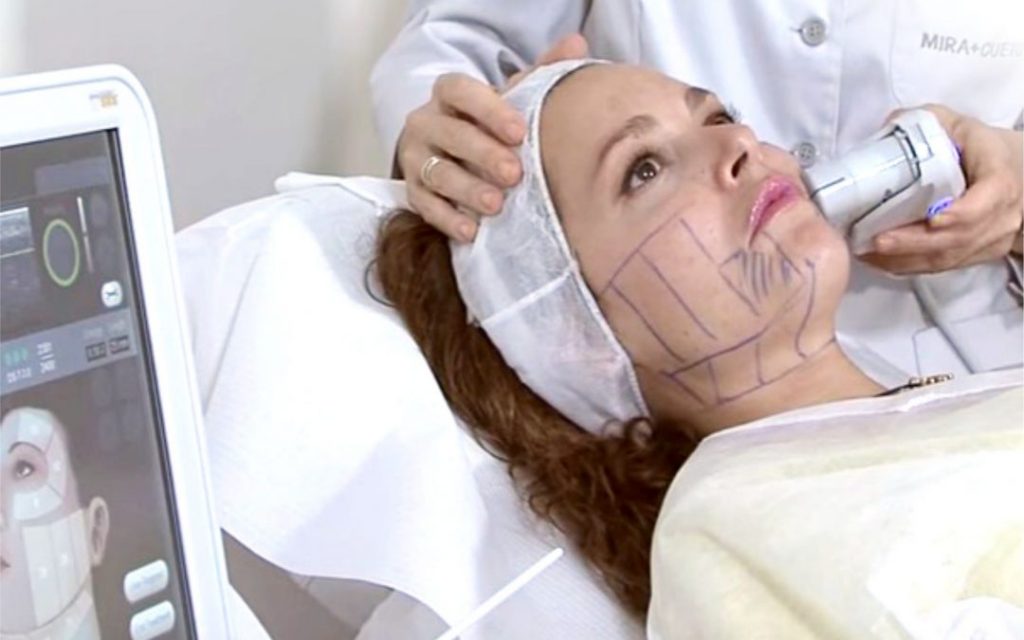 HIFU – High Intensity Focused Ultrasound directly delivers heat energy to skin and subcutaneous tissue that can stimulate and renew the skin's collagen and thus improving the texture and reducing sagging of the skin. It is a safe, non-surgical ultrasound treatment that counteracts the effects of time and gravity on your skin. The treatment uses the body's own regenerative response to gently and gradually lift skin on the eyebrow, under the chin and on the neck, and smooth lines and wrinkles on the décolletage. HIFU targets deep down in the foundation layer of your skin, the same layer addressed in cosmetic surgery. Unlike lasers, which penetrate the skin from the outside in, the HIFU procedure bypasses the surface of the skin, and delivers targeted energy specifically into the deep, structural tissues and muscles where collagen lives.
How does HIFU work?
HIFU involves penetrating ultra-sound energy to stimulate collagen production in the deep dermal and sub dermal levels, which results in micro injury to that tissue. As the tissue heals, it increases collagen and as the collagen fibres organise and shorten, a tightening effect is seen on the skin.

What can be treated using HIFU?
Brow lifting, Jowl lifting, Neck lifting and tightening, Overall skin tightening and rejuvenation
How long until I see results?
Clients may see some initial effect, but ultimately lifting and firming will take place over approximately 3 months, as collagen is renewed and replaced with new, stronger collagen. As this collagen building process continues, continued improvements can appear for up to 6 months.
Does it hurt?
Most people do not report pain. There can be slight aching over bony areas or a warm sensation in the skin during treatment.
Is it safe?
Thousands of treatments have been performed worldwide using HIFU technology without significant adverse events. In addition, ultrasound energy has been used safely in the field of medicine for more than 50 years.
We have amazing Introductory offers on this treatment and even include a second treatment in the price 2-3 months after your first treatment.
For more information please don't hesitate to contact us on Tel: 01495 718800