Tattoo regret? or doesn't look as you hoped? you don't have to spend your time covering up. With the latest PICO laser technology you can have that tattoo removed or faded enough to get what you want.
We use the newest PICO Laser Technology
The Pico laser is the most effective tattoo removal laser on the market, which means fewer sessions than competing lasers. Pico removes tattoos in half number of sessions compared to the Q-Switch laser.
How many sessions needed?
This is dependent on the tattoo itself and varies from person to person. Generally, tattoo removal is a process which requires multiples sessions due to the ink, colour, the deepness of the ink and the type used by the tattoo artist. Patience is essential. Your tattoo will fade gradually over the course of multiple treatments. We take photos at each stage to monitor your progress. Between each sessions, we recommend a minimum of 6 to 8 weeks time to let the skin heal and the body to flush away removed ink.
What you can expect with treatment The Pico technology uses incredibly short laser pulses (one trillionth of a second in length), to hit the ink particle beneath the skin with such a huge amount of pressure, that the pigment shatters into minuscule dust-like particles. These are then absorbed by the immune system and eliminated by the body. The short pulses feel similar to snaps of small rubber bands, followed by a warm sensation. A temporary whitening will follow the first treatment and the skin will return to its natural colour.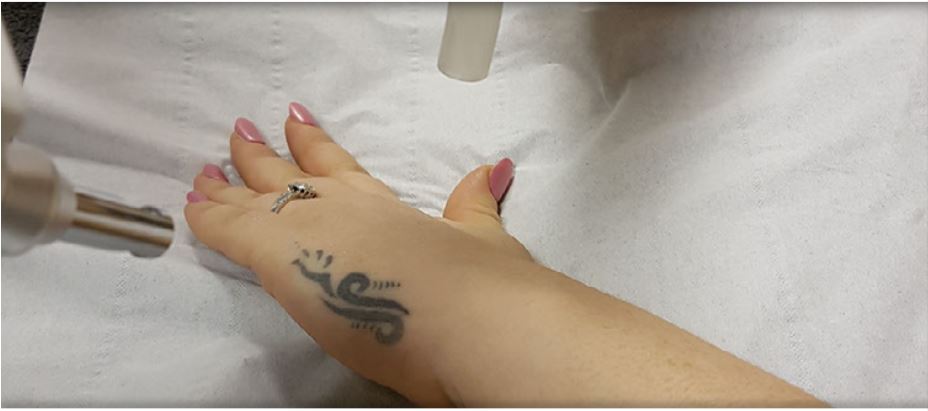 At Studio 9 Advance Treatments we offer an anaesthetic cooling machine that will reduce the pain during your laser treatment at no extra cost.
Prices start from £25 per session
Special Offers Available
SEMI PERMANENT MAKE-UP REMOVAL
Sometimes your tattooed make-up just isn't what you expected, what you wanted or it fades to an unwanted hue of colour. This is when tattoo removal is required. We offer removal and correction of Microblade Brows, Powder Brows, Lips, Beauty Spots.
We offer a FREE CONSULTATION & PATCH TEST to best advise. We will also discuss what is involved with the laser removal and make sure you are happy to proceed with treatment.
For more details please don't hesitate to contact us on 01495 718800 where we will be happy to help you with any questions.

A registered clinic with the Healthcare Inspectorate Wales