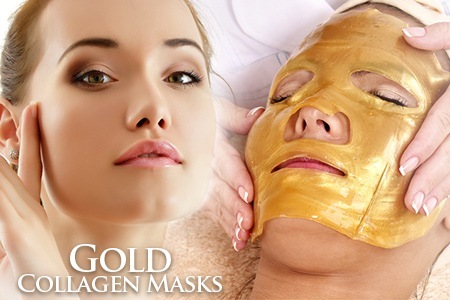 Gold Collagen Mask Treatment
We are now offering the highly popular gold collagen masks a treatment that is widely popular with celebrities such as Cameron Diaz, Nicole Kidman & Ellie Goulding as well as being featured on The Only Way is Essex. A highly costly treatment at an affordable price.
A relaxing treatment which includes a steam facial with you enjoying the benefits of the mask shown below:
Lifts and firms

Anti-inflammatory and soothing

Powerful patch – reduces dark circles under the eye

Rejuvenates skin – preventing and refining ageing

Anti-wrinkle mask which help to smooth out the wrinkles

Enriched with natural moisturiser

Refresh fatigued skin

Re-hydrates the skin

Increase your skins natural collagen production

Activates cellular regeneration

Conditions your skin

Helps to improve your skin's elasticity

Intensive treatment; reduces fine lines and wrinkles by lifting and nourishing the skin

Leaves your skin silky smooth and feeling firmer

pH balancing

Skin tone and dark spot reduction
When applied to the skin, the Gold Collagen Facial Mask immediately forms a protective layer, which instantly reacts to the skin's natural chemistry and helps to replace the collagen that decreases with age.
Treat yourself and bring confidence back in your look
Amazing price £65